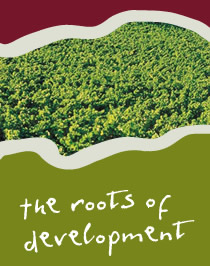 Flights to South Africa
Cape Town is located at the southern tip of the African continent, yet is easily accessible via direct overnight flights from Europe, the Americas, Asia and Australia.
Click here to download a document outlining flight routes to and from Cape Town.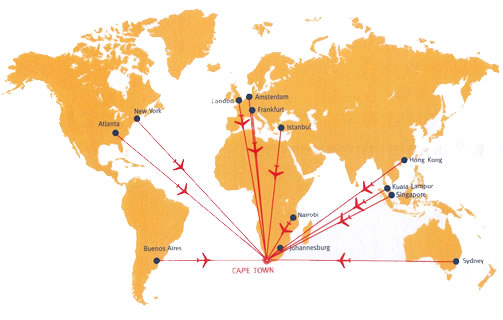 South African Airways (SAA) is part of the Star Alliance, and South Africa is served by major airlines such as United, Delta, British Airways, KLM, Lufthansa, Emirates, Qantas, Singapore Airlines, and more.
Estimated flying time between various destinations within Southern Africa
| | | |
| --- | --- | --- |
| Departure | Arrival | Duration |
| Johannesburg | Cape Town | 1h50min |
| Durban | Cape Town | 1h55min |
| Johannesburg | Livingstone | 1h30min |
| Johannesburg | Sun City | 40min |
Estimated flying time from various destinations to South Africa
| | | |
| --- | --- | --- |
| Departure | Arrival | Duration |
| USA (Atlanta) | Johannesburg | 15h10min |
| USA (New York) | Johannesburg | 15h05min |
| USA (Washington DC) | Johannesburg | 16h40min |
| Germany (Munich) | Johannesburg | 10h50min |
| Germany (Frankfurt) | Johannesburg | 10h45min |
| Switzerland (Zurich) | Johannesburg | 10h35min |
| Netherlands (Amsterdam) | Johannesburg | 11h35min |
| France (Paris) | Johannesburg | 10h35min |
| Turkey (Istanbul) | Johannesburg | 12h00min |
| UK (London) | Johannesburg | 11h25min |
| UK (London) | Cape Town | 12h10min |
| Hong Kong | Johannesburg | 12h50min |
| Kuala Lumpur | Cape Town | 12h30min |
| Singapore | Cape Town | 12h50min |
| Australia (Perth) | Johannesburg | 12h50min |
| Australia (Sydney) | Johannesburg | 13h55min |
| Brazil (Sao Paulo) | Johannesburg | 13h55min |
| Argentina (Buenos Aires) | Johannesburg | 09h25min |
| Argentina (Buenos Aires) | Cape Town | 07h45min |
| Israel (Tel Aviv) | Johannesburg | 09h10min |
| UAE (Dubai) | Johannesburg | 09h40min |
| UAE (Abu Dhabi) | Cape Town | 10h25min |
| Qatar (Doha) | Johannesburg | 10h55min |
| Egypt (Cairo) | Johannesburg | 08h15min |
| Kenya (Nairobi) | Johannesburg | 04h15min |
| Namibia (Windhoek) | Cape Town | 02h10min |
UPDATES
KEY DATES
Congress Opening Session
9 July 2012
Welcome Reception
9 July 2012
Book Launch
10 July 2012
Cultural Evening
11 July 2012