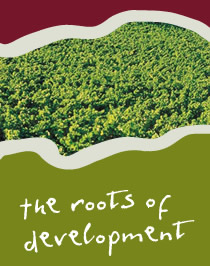 The XVIth World Economic History Congress
2012 will be the first time that the World Economic History Congress will be held in Africa: the cradle of humankind.
The reasons for Africa's relatively slow economic progress are fertile ground for economic historians to explore: does the cause lie in African institutions, arising from its colonial and pre-colonial history, or in later political developments? What can Africa learn from the experiences of other countries and continents? These are some of the fundamental issues that economic historians investigate, and applying the knowledge and understanding gained from economic history studies to Africa, the poorest continent, has great economic, social and political significance.
While much of the agenda of the Congress will address other issues and countries, holding the World Economic History Congress in Africa is symbolically important. It will show clearly that the International Economic History Association believes that economic history holds lessons for Africa and that Africa is an important area for research in economic history. Holding the Congress in Stellenbosch would encourage involvement by the African academic community, thus increasing participation by underrepresented countries. It would also give greater impetus to recent attempts to instigate more research on economic history in the African context, linked particularly to the institutional and quantitative perspectives that have been gaining popularity in the international literature.
In Stellenbosch in 2012, Scholars from the developing and the developed world will present new hypotheses, data and analytical techniques, thus broadening our understanding of the historical evolution of societies and economies. In Africa, such understanding impacts increasingly on policymaking and on private initiative, and the 2012 congress will strengthen this trend. Most importantly, holding the 2012 World Economic History Congress in Africa will generate renewed interest in the study of economic history in Africa and will provide a fresh perspective on the relevance of economic history in the developing world.
Who Will Attend?
Academics and researchers in the field of economic history, and economic policymakers interested in economic history. Judging from attendance at past congresses, the participation of as many as 1000 economic historians and policymakers from around the world may be expected.
UPDATES
KEY DATES
Congress Opening Session
9 July 2012
Welcome Reception
9 July 2012
Book Launch
10 July 2012
Cultural Evening
11 July 2012